Our smart phone has very importance for us. Data in our Smartphone is everything for us. Now a days we save our many important files in our phone, so it is very necessary to have its backup. To backup our data there should have a good file transfer app which can be able to use without internet to transfer our files from Phone to PC and PC to Phone easily, quickly & efficiently. Although there are some methods which are used for this purpose. For example some people transfer their data from smart phone to PC by using USB. Others uses SD cards some use cloud storage services.
If you are looking for a file transfer app and want to backup your phone data into PC, then "Daemon Sync" is one of the best program. Using this software whenever you want, you can easily transfer your phone data into your PC without using any cable. Furthermore files which are available in PC can be seen on phone using this program.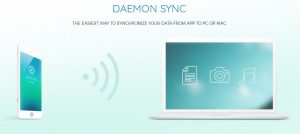 One of best positive point is that this file transfer app is available for both Android and iOS platforms. Similarly its desktop program is available for Windows and Mac Operating systems.
You have to install its app on your smart phone and server program on desktop. App can be downloaded from Google Play Store whereas server program can be downloaded from its following website.
http://www.daemonsync.me
It is necessary for using it, that phone and PC should have on same wireless network. This work on local network, so you don't need internet connection. Its app will itself automatically find out your desktop available on network and you will be able to connect it with the help of security pin. So that's it transfer your files with a file transfer app without any problem.