Opswat is a famous Computer Security company. One of their best free antivirus program which was available earlier with the name of "Meta Scanner" now called "Metadefender". After scanning your files at the same time ore than 40 antivirus on this online service and provide report. Although mostly people know the website namely "Virus Total" in this regard, but Metadefender is known good due to its unique features. If you upload several files at a time on Virus Total, you can know that either there is a virus in those files but you can't know that which file is affected with virus. However, at  Metadefender, report is being provide for each file after scanning. If you make a zip of hundred files and scan using this free virus removal, you can know that which file is affected by the virus.
Due to this reason this company is known good and now it has issued a best program free. This is a best antivirus which must be installed to your side. Its name is "Opswat Metadefender Endpoint Management". This program can completely scan your computer and inform you about all the faults therein.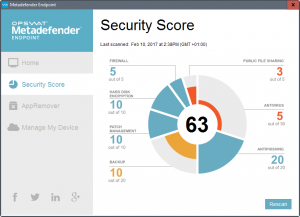 Mostly people became relax after installation of antivirus and don't care about the performance of  antivirus whether it is working fine or not. Therefore "Opswat Metadefender Endpoint Endpoint" continuously keep an eye and let you inform you that what is the condition of antivirus, which programs are needs to be update, is firewall working properly, what the condition of encryption of hard disk, and system is making back up properly or not. Means this program inform you about the all important aspects through score.
The most important thing is that "Opswat Metadefender Endpoint" it is completely free for Windows, Mac, Android & IOS. When you will going to download it, you have to first fill up a from and you will then send a download link.
You can access it at following link
bit.ly/metadefender