Whatsapp ha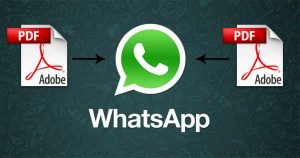 s completed one of the long hled(desire) of their customers. Now Whatsapp users would not only be able to send and received messes but also they would be able to send and received pdf documents.
Initially this service was available for limited customer but now this service is available for all Whatsapp customers. But it is mention-able that through Whatsapp application, only pdf files can be sent and receive. Now by clicking on attachments icon you can not only send pictures, audio or video but also pdf documents can be choose.
One thing must be keep in mind that received should have to be installed latest version of Whatsapp in order to receive pdf document. Otherwise Whatsapp inform you through a message that it is not possible.