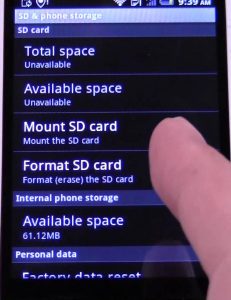 To keep micro SD Card safe for long time it is necessary to format sd card time-to-time, same as cell phone is kept to set its actual speed for restoring on factory settings. After format, the SD Card became fresh and free of errors. Furthermore at the time of sale of cell phone, along with micro SD Card it is very important to format it, so that our not become save to go others' hands.
Everyone know how to format a SD Card with the help of Card reader on Computer. Lets we guide you how to format the Card directly from Cell phone.
Off course it is not necessary to inform that with when we format the Card, all the data loses, so it is necessary to backup your data before doing this action. Besides in this essay Android devices will mentioned which have facility to attach memory card.
To start this task first of all attach SD card in your Cell phone or Tablet. After that come in the section of storage under settings. In storage you will notice that there is option of "Format Card". To use this option it is necessary to first "UnMount" it. When you see below its, there will an option "Unmount SD Card". Before Format using this option "Unmount" the card. After that you can easily format the Card using Format option.
Once formatting of card it needs to "Mount" again so that cell phone can recognize it; otherwise it does not work in cell phone. So this time using "Mount SD Card" option mount the card and cell phone immediately recognize and show it in storage. Now after passing from these easy steps, you have been able to format and use again your Card.
Here one thing should be remember that with phone SD Card format on FAT32 File system. FAT32 system does not allow to copy large files, a drive with this file system does not copy a file more than 4BG space. In short, if you want to copy a file on your Card larger than 4GB, than you have to format the Card using NTFS file system with your Computer.




Out of order SD Card can be Format?
Yes, if your SD card has been damaged and fail to work again and again or showing errors than you can make it reusable after formatting.
Why SD Cards Damaged?
There are some reasons due to which Cards are damaged. One big reason is spurious availability of cards in the market. These cards are work for short time and non durable.
Besides, users are also responsible for damaging of Cards. Attaching and detaching of sd card again and again is also a reason to make it out of order. Furthermore detaching it from from device while seeing/using any data of it can make it useless. It is better not to attach/detach it again and again, and when it is very necessary than the device should to be turn off first and than detach the card.

Card Formatting on Android Marshmallow
If you are among those lucky users who have been upgraded on Android Marshmallow then there are little bit different directives for you. Actually when we attached SD Card on Android Marshmallow 6.0, it asks either you want to use it as portable storage or internal storage. Actually Marshmallow has a feature that it can use Card as a storage of phone but before this it first format and then encrypt it. So if you have selected your SD Card as portable storage then the method mentioned above to format the card is useful for you too also. However choosing and using it as internal storage you are not able to use it on computer as cell phone has already been encrypt it. To use it on computer it have to format again.