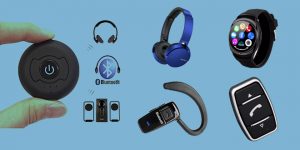 Bluetooth devices are getting rid us from the botheration of wires and making comfortableness for us. For example, while using the Bluetooth handsfree and headphone, one can easily use his phone during walking due to its wireless feature. Now-a-days use of Bluetooth devices is very common, specially everybody like to use Bluetooth headphones, as there is no any other better way than Bluetooth headphones to hear the songs which are saved on the phone.
There is only one problem with Bluetooth headphones that there is no any Bluetooth battery monitor facility in them. So it is difficult to aware of the charging level of these devices. Mostly to know the status of charging, there has an LED light on the device or when charging of headphone is about to end, at that time they give a beep. Means there is no any method so that one can remain aware of their charging level. When the charging level goes down then a user comes to know. And if at that time it is not possible to charge due to any situation, then badly disappointed to the user.
If you are also worried due to this situation than install an application called 'BatON' which is a wireless battery monitor available for android. This application can inform you the status of all devices that are attached to a phone or tablet. After installation of this application you can easily know the charging level of your Bluetooth devices. As a result, you can timely recharge them and remain on.
At present this application is available free for android. You can find it by typing 'BatON' in Google Play Store. The work of this mobile application is very simple which is to inform you about the battery level of your Bluetooth devices. So there is no any complex options therein. This app can be accessed at the link given below.
bit.ly/batonapp