To copy data from one place and paste it to another, is our daily routine work. But in Windows copy paste is very simple feature in which you don't get any additional features. For example during copy paste if we face an error than this process remain stop for much time and one can not understand that which data has been copied and which has not been copied. Specially if you are doing cut, instead of copy than there are chances that you may lose your files. Fast copy paste can be done with the help of any third party program. One of them is 'TeraCopy'. TeraCopy  have some extra beneficial features in it.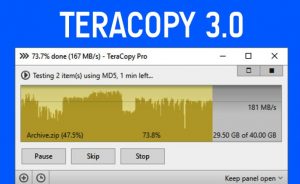 Now after long time, in Windows 10, pause feature has been introduced during copy paste, but this feature was already available in TeraCopy from long time. Let me go through some best features of TeraCopy.
FASTER DATA TRANSFER
This program can transfer data and files with more faster than the traditional and default Windows copy paste method.
FACILITY OF PAUSE & RESUME
Using this program during the copying of data you can pause it temporarily, and continue it again from the same position.
ERROR RECOVERY
During the copying of data, if an error appears in the program; it does not stop the copying process, but try to correct the error itself and continue process of copying.
LIST VIEW OF FILES
This program shows the list of programs while pasting that which files have have been copied. Due to this feature,  you can easily know that which file is copied and which is not. And if due to any reason if any file not copy, you can copy it again easily instead of repeating the whole process.
This program is free for non commercial use. After installation this takes the place of your default copy paste. You can download its Version 3 from its following website.
codesector.com/teracopy
In a nut shell we can say that TeraCopy is a software that provide fast copy paste facility along with some more additional options.