Video Conversion was not very famous few years back, but due to arrival of many devices, everyone need of video converter. Mostly due to conversion of screen size we have to convert video. For example to convert the video from Desktop Computer to Mobile Phone. Or we have to reduce the size of videos for sharing. For instance Whatsapp don't allow to share a video having size of more than 20 MB, so we have to reduce the size of the video. It is also possible that you have an old DVD/CD whom you want to convert for watching on the computer. In this article we are going to discuss about how to download video converter and compressor free having great performance.
To convert a video from one format to on other, and for compression, you should have good video converter/compressor software. One of good news is that after living in the process of development till 13 years, finally first version of 'HandBrake' has been released. In spite of very good performance of this program, it was on Beta Version from last 13 years. It updates was releasing continuously, but it was not assigned any final status. But at the end of previous year and beginning of new year, its first final versions has been released. You can easily download video converter and compressor  form following link:
www.handbrake.fr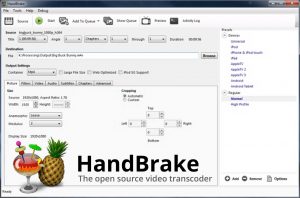 When it comes to conversion and compression of video, this software has ability to support all fam
ous video formats. It has best audio performance and also an option to insert subtitle. Besides, one of its very important thing is that it is available on Windows and Linux and even totally free available under (GPL) license. Means whenever you want to you get its source code and make changes in it of your choice too. Furthermore there is no any ad in it. If you want to get a professional and free video converter and video compressor at the same time, than your choice should be "HandBrake'.
It has ability to compress videos and decrease the video size without losing audio and video quality.