Many people want to know that during the chat of their love ones, How to record Video call from Skype. There is no such option in Skype using which one can record audio/video calls of Skype. However there are third party softwares available using them this work can be done. There are several such types of softwares but most of them are not free and those which are free are able to record audio/video calls offer their service for limited time duration. One of among them is FreeVideoCallRecoderForSkype. You can download it from the link give below:
http://www.dvdvideosoft.com
Be careful during the installation of this software as this software tries to install several toolbars and Opera Web browser. At every step of installation of this software, choose custom installation method and uncheck the all check boxes of unnecessary toolbars and softwares. This way not unnecessary software will be installed. Before installation close the Skype program.
Use of this software is very easy. After Sign in to Skype open this program and click on the Red color Record button.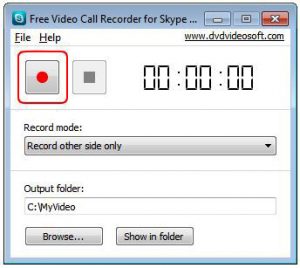 If you want you can choose option from record mode and record the video of your and the person you are talking, only video other side or only audio.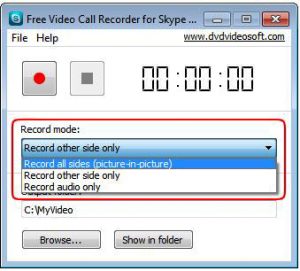 You can also choose the location of your choice when where the recording will be save.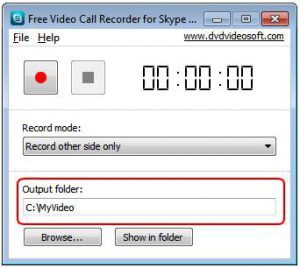 During the recording, not only you can stop the recording means pause the recording but also stop the recording by clicking the Stop button.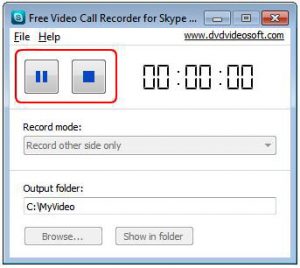 To know that where recording is saved click on "show in folder" button.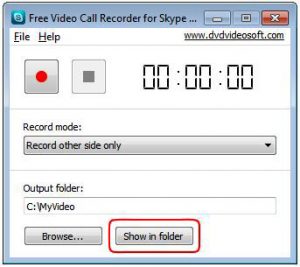 After trying of sometimes, you will be expert in using of the software.
It should be keep it in your mind that recording of someone's personal video without his/her permission can be illegal. Therefore it is better to inform the person when you are recording his/her video.